Seeing Things
Chapter One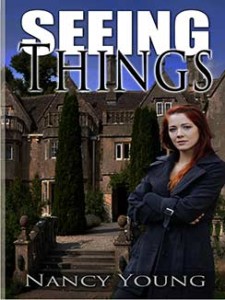 Internet Results: Characteristics of a Haunted House
Shuttered, decaying, and isolated, the typical haunted mansion seeps atmosphere. Hollywood prefers the Gothic or Tudor, though any classic creepy-looking manse will do—especially if a menacing iron fence surrounds it and it beckons under a threatening sky.
Smiling down at the text, I had to admit he got it mostly right. This whole job interview felt like the setup for a cheap Gothic romance.
Ahead of me, Grey Crag dominated the crest of the Devon hillside, an uneasy mix of Victorian, Tudor, and Romanesque, gabled and mullioned to its red tile rooftops. But the granite walls looked sturdy enough, the windows were neither vacant nor eyelike, the sky blared blue with no hint of storm, and I felt nothing more ominous than a faint pain from sitting too long. "Tally ho," I muttered, unbuckling the seat belt.
Gothic heroines probably spring lithe and willowy from their bucket seats, but I squeezed out from behind the steering wheel, tugging my jacket to hide that I was more maple than willow.
I really needed this job.
The stone steps led me through a double archway, beyond which loomed the portal—no mere door for Grey Crag. What name would suit the rental D.J. and I shared in Malvern? Bungle-low, maybe? From a nearby pillar, an honest-to-God gargoyle glared over my shoulder as I pressed the brass doorbell, triggering Westminster chimes to echo through passageways beyond. Taking advantage of the wait, I checked my reflection in the sidelight windows framing the door. The limp hair looked a little reddish in the afternoon sunlight instead of its usual boring brown. I smoothed flyaway strands, straightened my tortoiseshell glasses, buttoned the navy blazer, sucked in my stomach, and adjusted the matching skirt, which had a tendency to ride up over my expanding hips. There. I looked cool, calm, and professional. I could pull this off.
Considering the setting, I expected a cadaverous Mrs. Danvers clone to answer the bell.
Instead, a chubby tabby swished across the flagstones to squeak expectantly. "Pushy beast, aren't you?" While bent to stroke the welcoming committee, bottom to the door, I heard a scuffle and the creak of hinges.
"Mrs. Livingston, I presume."
So much for first impressions. I shored up my drooping dignity, upped the amps of my wide smile, and held out my hand. "Mrs. Parrish?"
The woman answering the door looked frail, but her grip could take down an Amazon. "So happy to meet you. And I see you've already met Penrod." She glanced down at the twitching tail and back at me. "Have any trouble finding us?"
"Hard to miss the place." I wasn't exaggerating. Along this stretch of lane, the landscape bore only the mansion and a few well-trimmed trees. "And I grew up not too far from here, in a subdivision up Waterloo Road."
"Well, welcome back to Pennsylvania, then. Please, come in." The cat stalked through the arched doors to a wide hallway. "I don't think I included you," the owner chided. Penrod didn't seem to take offense.
I suppose the echoing space was more a foyer or even a narthex, since its dimensions shouted cathedral. D.J.'s dire predictions proved true again. The ceiling above us rose twenty feet, timbered in dark wood. The same wood gleamed under rectangles of Oriental carpeting in cabernet red.
I'd been prepared for the grandeur, but not the light that bounced off the carved paneling, parquet floor, and marble fireplace. It warmed the stained glass in the first bend of the massive staircase and made a halo of the white curls crowning Mrs. Parrish's head.
"Rather much at first sight, isn't it?" she laughed. "Even I'm overwhelmed sometimes, and I've lived here most of my life."
I couldn't imagine a miniature Mrs. Parrish growing up in such a place. "You must love it here." I consciously resisted the urge to run a hand over the smooth wood. "It's so majestic and peaceful."
"That's what my father always said. He called it his haven, his retreat from the city." She stared at the mantelpiece without seeing. "He never wanted to leave." She nodded her head, a faraway look in her eyes. "My husband felt the same way."
"I can certainly understand that." I felt a little uneasy about the mantelpiece urn that seemed to capture her attention. "I'm eager to hear more about the position."
"Let's go into the library, then. It's nice and cheerful this time of morning." Despite her age, the woman made good time across the checkerboard of carpets through an archway beyond the staircase. "I have some coffee and sweet rolls all ready."
The spread on the refectory table alone was enough to convince me I wanted this gig. Ahead, the cat leaped up to inspect the offerings. Shooing him away, his owner gestured to a nearby settee flanking a second fireplace. "Please make yourself comfortable, Mrs. Livingston. It's softer than it looks."
"You know, much of your home strikes me just that way. Surprisingly inviting." I settled in and accepted a cup. I could get used to this.
"So you feel it, then," her hostess nodded. "Some do right away."
"I've never really considered myself the sensitive type." I sipped cautiously and tugged my skirt.
Mrs. Parrish smiled. "That may well work in your favor. The last person in the position turned out to be a bit too sensitive."
I laughed. "No one's ever accused me of that." Except my cheating, porno-obsessed ex-husband. I decided to leave that part out.
"There are all kinds of sensitivity, Mrs. Livingston." Her smile had deepened, revealing an impressive set of dentures. "So let's get down to business. I see that you can drive."
I smiled back. "I can. I also possess excellent verbal and written skills and considerably more than a high school GED," I added. "I enjoy reading and researching. I can bend, stoop, push, reach, sit, and walk with no problem, and I can heft a weight greater than Penrod here if required."
Mrs. Parrish chuckled, a creaky sound that matched the door hinges. "You must have memorized the ad."
"Ma'am, this companion job and I are a perfect fit in every way."
"Perhaps you wouldn't mind a little audition?"
"Excuse me?"
"I don't see as well as I'd like, but I do enjoy books." She nodded to the volumes that lined the library shelves. "As you can tell, a love of literature runs in my family. Do you have a favorite author, Mrs. Livingston?"
"I'm sure I couldn't pick just one," I answered, hoisting myself from the settee to scan the titles, mostly leather-bound classic sets of Shakespeare, Dickens, Hardy, and Doyle. "I like a variety—Austen, the Brontës, of course. Tim O'Brien, Kurt Vonnegut, Toni Morrison, Angela Carter, early Stephen King…" Pausing, I selected a copy of the Shirley Jackson novel I'd taught a few years before. "I love this book." After wiping my glasses, I read the opening lines aloud, finishing with "silence lay steadily against the wood and stone of Hill House, and whatever walked there, walked alone."
Mrs. Parrish's smile hadn't dimmed. "Yes, I think you'll fit right in," she said. With exactly what, she didn't say.
---
Hearing Things
Chapter One: Mary Catherine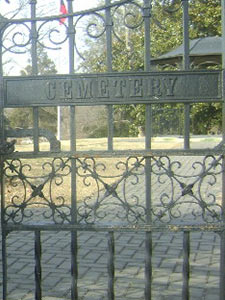 There was the sign: Welcome Center Ahead. Thank God. A mile later: Welcome Center Closed. Apparently, North Carolina wasn't slaughtering any fatted calves. It didn't even offer up any road-killed raccoons on this isolated stretch of highway. But I'd crossed the rumble strip onto the shoulder a mile back, and I had to keep blinking so I wouldn't see double road signs. Otherwise, I'd never have considered stopping, a single mom with a skinny teen, traveling alone, with night coming on.
But I needed a rest stop–well, a rest stop with a ladies' room and a cup of hot tea and a backrub . . . and I had to exit from that line of thinking or I'd turn around and head back to Philadelphia.
Tony was so good at backrubs.
Though I-95 had been like a NASCAR speedway through most of Virginia, once we'd crossed over the border, traffic had eased up. The last few miles, I'd seen only a lumbering tractor trailer and an ancient Buick coasting ten miles below the speed limit. Across the median, a few straggling kudzu vines still latched tenaciously to the stark loblolly pines. I tried not to see their desperate clinging as a metaphor.
If I could just pull off and stretch, clean my glasses, maybe dig around in the back of the car for a snack and a soda, I'd be able to wake myself up and still make Raleigh within a couple of hours.
Ordinarily, I'd crank open the windows or sing along with the radio or talk to keep from dozing off. But the outside temperature still hovered in the thirties, and D.J. had effectively cut off all communication by jacking his seat back and plugging in his earphones. I suspected the earbuds served to filter out unwanted signals. Especially those from his mother.
I jostled his arm. "Whatcha listening to?" I had to tweak him twice before he answered.
"Mu-sic." He enunciated each syllable like he was doling out the last two Pringles in the can.
Seven ways to slap him down came to mind, but the good mom in me held back. Instead, I kept my voice firm. "We need to stop." Damn it, I needed a break. It had been a rough year. Divorcing D.J.'s father, helping Mrs. Parrish compose her blue-blooded family history, keeping vigil during her illness, the whole Grey Crag séance debacle—too much drama. I sure didn't need to go looking for more. And yet here I was, heading back to the life I'd left.
Orange traffic cones blocked the exit ramp, but the shoulder offered enough access for me to squeeze my humble Honda through. Ruts in the dirt beside the pavement testified that other cars and trucks had stopped before us. The bumpy terrain joggled D.J. back from the world of iTunes.
"What're you getting off for? We told Dad we'd be there by dinnertime." D.J.'s Carolina-blue eyes, so like David's, accused me of many sins, the most serious being, I suspected, his delayed meal. He snapped the seat to upright and tugged his earbuds.
Don't say it, Mary Catherine, I told myself.  The kid's had a rough time, and he misses his dad. Steering around broken glass kept me from answering until I pulled to the curb. "I just need a little fresh air. Don't want to fall asleep at the wheel." The rest stop looked as if it had been shuttered for months, maybe for as long as a year. Last fall's weeds had dried into skeletal stalks that poked here and there through cracked asphalt. Decaying fast food wrappers and dented water bottles littered the pockmarked lawn. No landscape crew had smoothed the furrows or filled in the patchy islands of dirt.
The place held neither welcome nor rest that I could see.
"Want to stretch your legs? I'm sure the bathroom's locked, but nobody'd see if you had to water a bush." I took my time unfolding myself from the driver's seat, wincing at the twinges and tweaks along my back.
"Think I'll pass on that." D.J.'s answer bled sarcasm. "Any of those chips left?"  The kid could clean out a snack aisle in days without gaining an ounce. He didn't get that from me.
"You finished the can, but there might be something left in the trunk." I tossed him the keys and grabbed my ratty jacket. "I'm going to walk around a little." I zipped the jacket up to my neck and pulled the hood up to shield my face from the wind. A front was blowing in. Behind me, the car door slammed. D.J. hunched his bony shoulders beneath his sweatshirt, shoving his hands into his armpits to keep them warm. His perverse aversion to wearing a coat left him shivering in minutes.
"Don't go too far." I had to assume he heard me. In no hurry to reunite D.J. with his father, I followed the sidewalk past the outbuildings and empty vending machines. For a few feet, I kicked a Pepsi can, listening to the thin clatter until it rolled into a storm drain. Stalling.  I dreaded returning to the brick Colonial I'd decorated, tended, and fled.
Beneath a grove of trees, pine needles coated the ground and lay thick on a lone picnic table.  I brushed away a spot and perched, feet propped on the bench, wondering how I'd ever let David talk me into ferrying D.J. back home for Christmas. We'd had it all planned—David would drive up to take him to Raleigh, and I'd drive down a couple of weeks later to bring him back with me to Pennsylvania. But you know what they say about those best-laid plans. With David, something always came before us. And worse still, I'd been manipulated into staying the night with the two of them, since the arrangements I'd made with my friend Jodie had fallen through at the last minute and all the affordable hotels nearby were booked solid for the holidays.
"Mom?" The wind carried D.J.'s voice and flung it about so I couldn't tell where the call originated. "Mom?"
"Here!" I called. "In the picnic area." The temperature had plummeted as the shadows lengthened. We'd stopped longer than I realized.
"Mom?" Was there a hint of panic now? I hopped to the ground, the back of my neck prickling. Something was off. I doubled my pace as I retraced my path, struck by the isolation of the place. What had I been thinking, stopping here as night closed in?
Silhouetted against the setting sun, D.J. stood on the sidewalk next to the designated pet area. Here, sparse grass dotted earth that was sunken and discolored.
"Hey, kiddo, I'm right here." I knew something was very wrong when he didn't answer, but remained stiff as he stared at nothing, arms crossed tightly across his chest.  "What's the matter?" My own panic grew as I hurried to his side. I'd never seen him act like this before.
His voice cracked when he answered. "You hear it, right?"  I winced at the fierceness with which he grabbed my arm, insisting, "You have to have heard that."
"D.J., look at me." He wouldn't or couldn't. When I focused on where he was staring, I saw only rutted dirt and a few tattered wax myrtle bushes, their leaves more grey than green.
He startled and looked to his left.  When he turned back to me, his eyes were wide, pupils dark. "Mom, you must've heard that!" I shook my head slowly, hearing only D.J.'s harsh breathing and the rustle of the pines.
"What do you hear?" I probed as gently as I could, groping for reason.
"The crying." His thin face twisted.
"D.J., there's nobody here but us. You're just hearing the wind–or maybe the trucks out on the highway."
"No. No way. She's crying, crying right there in front of us, but…I can't see her." He paced back and forth, agitated. "She's so scared, Mom." His eyes teared up.  "And she's screaming because it hurts so much." He halted in front of me. "We've got to do something. Go for help." But he made no effort to move toward the car. And still I heard nothing but the wind.
As the sun dropped past the horizon, I finally saw the problem.
There she hid, masked by the tangled shrubbery,  perhaps no more than a toddler, her dark hair matted and face streaked with mud, silently shaking and begging for help. Silent to all but D.J.  Invisible to all but me. Oh, God, no. My gut shrank and folded in on itself. "Sweetie, it's too late for her now."
"We can't just leave her here. We should call the police, maybe. Get an ambulance. Find—"
I closed my eyes and let him ramble. I'd been down this road before, and it was a dead end. When I was in first grade, my mother had "found" a missing boy and reported the murder anonymously.  But she hadn't stayed anonymous for long. We'd reigned as neighborhood oddities for years. No way was I going to let history repeat itself here. The dead should just stay buried. Since I had a choice this time, that's the way it would be.
I ventured an arm around D.J.'s rigid back, and together we watched and listened. In the gathering night, I sent up my own silent pleas—forgiveness for me, and for the toddler, a prayer for the dead.
***
D.J. sprawled in the front seat, the overhead light turning his pale skin a jaundiced yellow and his spiky hair a tarnished bronze. Ear buds firmly back in place, he had turned up the sound so high that he didn't look up when I tapped on the window by his head.  Once I squeezed back in the driver's seat, I saw what he'd tuned to. Pink Floyd. This mother couldn't keep Baby cozy and warm, but our ride was sure making all his nightmares come true. Should I suggest he play "Highway to Hell" next? I wondered, buckling up and taking the keys from him so I could crank the engine and turn on some heat.
"So . . . quite a road trip," I shouted, unsurprised that he ignored me. Determined, I waited until Roger Waters petered out before I reached over and unplugged the iPhone.
"What?" The anger in that one word packed a punch.
"Talk to me, kiddo. How long has this been going on?" I worked hard to keep my voice neutral.
"This what?"  The degree of scorn and denial he managed to pack into two syllables truly was impressive. From experience, I knew to wait him out. D.J. twisted in the bucket seat, stared out the window, flipped through screens on his phone, adjusted the heating vent to blow away from him, and eventually sat straight, still refusing to meet my eyes. Finally, he gave in. "What do you want from me?"
"Let's stick with the truth. How long?"
"You don't want to hear this."
"Probably not, but I need to. Talk to me, D.J." I watched as a gust of wind swept tattered brown leaves across the concrete. Memories of my first ghost swept in with them, memories of that long-ago bike ride and ill-fated game of hide-and-seek in the country churchyard. I'd been about D.J.'s age then. And I'd been trying to unsee things ever since.
"Dad's going to be so pissed."
"Yeah, I know. I called him to let him know we'd be late."
"You can't tell him. He'll think I'm a freak. Like you."
That stung, but I'd asked for truth, so I couldn't complain. "He won't think you're a freak. He loves you." I looked away from the clump of myrtle bushes. "Why didn't you tell me?"
"I don't know," he mumbled. "Talking about it would make it, like, seem more real."
Well, I couldn't argue with that, either. "Son, what we have here is a failure to communicate."
His laugh sounded more like a sob. "Can we please get out of here? I just want to go home."
Home. He still thought of it as home. That stung too. After pulling off at the next exit, I parked outside a Mini-Mart. Sitting inside the Honda was eerily like sitting in a movie theater watching a show. I used to take D.J. to Saturday matinees to watch dancing penguins and animated cars. If only we could escape into the lobby for buttered popcorn and a giant Coke. The car felt warmer now. When I turned off the engine, the quiet hurt my ears. Again I waited.
"Remember that field trip to D.C.?" D.J. asked.
"Hard to forget. I had to leave work and pick you up."
"That was one of the worst. That trip." He sat stone-faced, voice flat. "We saw the Lincoln Memorial. The Vietnam Memorial."  He looked over at me, defiant. "Arlington. And the Holocaust Museum."
"Oh, God."
His voice hitched then, but he tamped it down. "They had dirt from the death camps, and there was a doll, and all these shoes. . . . They were so loud, Mom." He turned back to look out at nothing. "Screaming. Crying for their moms. Like it was all still happening."
The image of frantic mothers pleading for their babies churned with the bile rising in my throat. I choked both down. "No wonder you got sick." If I reached out or let my voice waver, I knew he'd shut down, so I stared into the black sky. Two hours still till moonrise. A bad moon, I was sure.
"I think it's worse than seeing. Hearing, I mean." His tone was back to conversational as he twisted the cord around his finger.  "'Cause you can always shut your eyes, you know? But sometimes you can't shut your ears."
I felt as helpless as those other mothers. "I'm so sorry, kiddo. I wish I could fix it for you."
His mouth turned up in a parody of his smile. "Sucks to be you too."
Doubly so now. "So true. Except I do get to be your mom." I forced my own grin. "Never a dull moment."
He laughed then. "Hey, something good came out of that field trip, anyway. You know the Tomb of the Unknown Soldier?" I nodded slowly. "His name was Bill." And with that final revelation, he tuned me out.
Chapter Two: Tony
Internet search: Auditory haunting
The most accessible gateway to the world of the paranormal is the sense of sound. Whether it's through the infamous spirit rappings of the Fox sisters, the spectral trumpets of Johnathan Koons, or the electronic voice phenomena touted by contemporary ghost hunters, the Other World leaks sound waves.
As the sound system pumped a hot version of "Baby, It's Cold Outside" through the restaurant, Tony mopped sweat from his neck. Even the color of the tablecloth made him shift in his seat.  He tried hard not to see the red lace table runner that edged his mind back to a vision of Mary Catherine Donavan Livingston. And it wasn't just the red lace that tickled his memory. The roses in the centerpiece reminded him of her flannel nightgown and what lay under it–creamy skin that went along with hair like cinnamon. The apple tart for dessert roused his appetite for more than food.
He had it bad.
The fact that he was fantasizing about her in the middle of the Paranormal Posse's holiday luncheon made it even more obvious to him that he'd never last until New Year's Eve, when she was due back in town.
"Right, Tony?" Across the table, Peter Larsson, the Posse's chief skeptic, skewered Tony with a steely look. "Proforta, you with us on this?"
"Yeah, sure." He had no idea what he'd just agreed to. How many hours would it take to drive from Philly to North Carolina? he wondered. If he left now? He took a sip of ice water, trying to erase the picture of Mary Catherine in tangled sheets. Follow her? Christ, he was thinking like a stalker.
Peter punctured the daydream. "So you'll handle it?"
And with that, Tony was back to handling Mary Catherine, every soft, warm, sexy inch of her, unzipping her dress to expose white skin and lush curves. Coated in lace. Red lace.
---
Sensing Things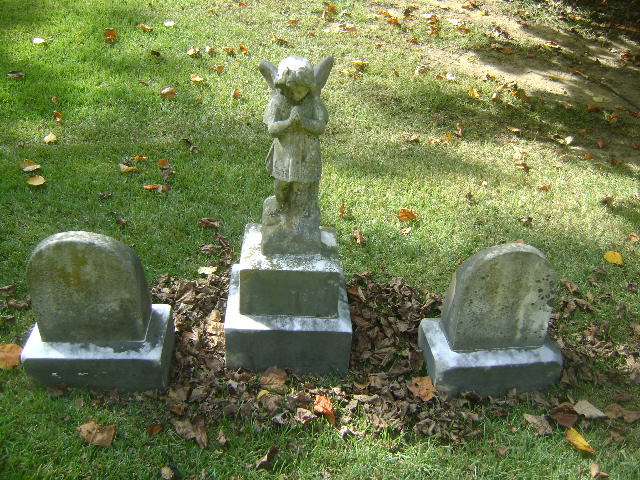 Chapter One
Mary Catherine
Wishing you could wipe the para from your normal? Wonder if others feel the same way? The Society for the Study of Paranormal, Occult, Out-of-body experiences, and teleKinesis (SPOOK) sponsors a monthly support group where members share their experiences in an open, welcoming, nonjudgmental environment. You are not alone.
On another day, I'd have smirked at the banner ad and scrolled past it. But nothing had been ordinary in my world for months, not since my "sensitivity" had become public knowledge. While I was waiting to cash in on double-coupon day at the Harris Teeter, the ad had popped up on my phone screen. Ironically, it happened as the cashier tried to convince me to talk to her husband, who had died of lung cancer fourteen years before without ever apologizing for all the women he'd had on the side.
"I'd go and see him up at the hospital every day after work," she explained as she weighed my apples. "Had to keep working, you know, 'cause I was the one carried the insurance. But when I'd get there, he'd just say, 'Go on home, Peg. I don't want you here.'  I tell ya, Ms. Livingston, it like to broke my heart." And she looked broken, her eyes filling, the memory cutting as sharply on a sunny February morning in Raleigh as it had the moment he'd said it.
Even though my cookie dough and brownie ice cream (an irresistible 'buy two, get one free!') was growing soft, I couldn't look away. "Miss Peggy, I'm so sorry. That must have been an awful time for you." After glancing uneasily at the checkout line behind me, I lowered my voice. "But once you open that door, it's hard to close it. And there's no guaranteeing what your husband has to say now is any different. Or that it's something you want to hear."
I had no intention of telling sweet, scattered Miss Peggy that her asshole of a husband hadn't improved any over the years. Why he chose to hang around a widow he'd scorned in life was a mystery, one I didn't plan to probe. Some things should stay buried. He was one of them.
Hovering to her left and staring me down, he looked like the kind of guy who kicked puppies and chewed tar: emaciated, grizzled, and sour. At least the cold air swirling around him at the end of the counter might help keep my groceries from melting further. Did that sound callous? Really, I wasn't heartless. I used to be a very nice person. But I'd had to toughen up, grow a protective shell to try to keep at least some of the constant whirl of grieving survivors in town from overwhelming me. Once upon a time, I could look away when the ghosts floated by, pretend I saw nothing, sensed no presence, felt no shadows closing in.
Not anymore. Now I couldn't stop looking, even though looking meant trouble. Two checkout lanes over, another departed husband was trailing his spouse, smiling fondly, reaching up to pat her back as she struggled to make sense of the self-checkout line instructions. Unfortunately, he knew I'd seen him and waved me over. In such cases, it's best to simply give in.
Her name was Irene. And so my ice cream melted further as I helped Irene scan and bag her cat food, bananas, raisin bread, and tea and load it all into an aging Lincoln. "An angel must have sent you," she said while her hubby grinned.
You can see why I stalled when I read the ad. Since taking up my consulting position with the Paranormal Posse, I'd had to acknowledge and even enhance my peculiar sensitivity instead of hiding it, hoping to seem normal.
So I reread the ad, desperate to deal with the sensory overload issue, along with all the other issues in my life that kept me up late watching wildlife specials instead of sleeping. With Valentine's Day fast approaching, I'd grown antsy, sensing things closing in tight around me like a Discovery Channel snake that coils around its prey and swallows it whole, head first.
My due date was in July—the month of Independence Day. And how ironic is that? Yes, I'd found plenty more than brotherly love in Philadelphia; I'd found a whole lot of complications. And Tony, bless his opportunistic heart, was the biggest one.
I hadn't read his latest text. He wasn't happy that I was here without him, gestating his offspring.  But for at least a little while, my time was my own, with no restrictions. The banner ad for the paranormal support group flashed again. What would be the harm in dropping in for a meeting while I was in the area?
Yes, now I know better. But that was then.
***
Tony
Tony Proforta clicked on the video for the second time, watching the upper left corner of the computer screen in his studio office. At first glance, all he'd seen was a fuzzy shot of a hotel room ceiling. This time, he focused on the area in question. Yeah, there might be something moving, but the low resolution and shaky camera made the image so blurry he couldn't make it out even when he froze the frame.
"I think this one's a bust, Peter." Tony didn't bother to turn around to face the tall man hovering over his shoulder and breathing down his neck. "Nothing that jumps out at me, anyway. Not enough to justify an investigation."
"We got some eyewitness accounts." Peter Larsson leaned closer. "And look—here, when the light flickers." He pointed to the right of the screen. "Did you see that?"
Tony nodded slowly. "Let me play it back one more time." They watched the segment twice more. "I don't know, man." Tony shook his head. "Could be dust. Doesn't look like the video's been tampered with, though. Shadows all line up. Blurs look natural. Haven't checked for double MPEG compression yet." Tony swiveled his chair to look up at his partner. "So what do you want to do?"
Peter ran his long fingers through thick blond hair. "The hotel's not too far from the old Parrish mansion, right? Mary Catherine's old neighborhood?
"Somewhere out there. All those Main Line suburbs run into each other. Ashley has the exact address." He had mixed feelings about the area. Mary Catherine had been born and bred in that stuck-up stronghold of Philadelphia society. He'd first seen her, red hair wild, curvy body not quite hidden by a loose white tee shirt, at the mansion where she was compiling the Parrish family history while the Posse investigated the Parrishes who still hung around after they'd died. He could have done without the supernatural pyrotechnics from that episode. But he couldn't do without Mary Catherine.
Tony paused the video for a closer look at a faint shape near the bottom of the screen. Was there something there? He took off his glasses and leaned into the screen.
"Why don't we send your woman in to check it out before we decide?" Peter said. "Be great to pick a local site. Save on the travel budget. That trip south took a big bite out of it."
Tony wasn't surprised. The last episode of Paranormal Posse, filmed at an abandoned rest stop off I-95, had cost a bundle. It had cost him too. He'd never get over seeing Mary Catherine try to comfort the invisible ghost of a dead toddler. And he'd definitely never get over watching the reality show's official medium, Sylvie Blakely, in action. The risk to Mary Catherine once spirits got riled had him considering the unthinkable: cutting the filming short.
"Mary Catherine's out of town." Tony kept his eyes on the frozen screen.
"What, she playing runaway bride on you?" Peter's laugh fell flat.
Tony's eyes narrowed. "No."
The single syllable had Peter fumbling. "The wedding's still on, right? Shit, Tony, I didn't mean—"
Tony wiped a hand over his face. "Things are cool. She went back to Raleigh to pick up the kid for the ceremony. She'll be back." He hoped that was true, anyway. He took a deep breath. "I'll let her know about the hotel gig."
He tried not to think of the unanswered texts he'd already sent.